Description
Product information "55065 LED Floating Globe 150 straight golden|E27| 6 W (28 W)|300 Lm|1,900 K|"
This  article will soon be available again in 2,200 Kelvin! Under new item no. 55075!
**This lamp is a special product (decorative item) and does not require an energy label.
Due to the specified color values, the item is not suitable for room illumination in households and is not intended for use in other applications.
SEGULA LED DESIGN LINE "FLOATING"
The absolute novelty on the LED market! Floating Light. With the sophisticated and patented soft filament technology, the new LED lamps from the Floating series appear as if they are floating. Whether in the living room at home or in the spacious hotel foyer. Different sizes, shapes and glass colors leave nothing to be desired. From the small reflector shape to the large globe in elegant smoked glass. Be inspired and fascinated!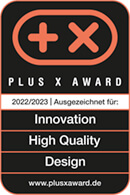 Our FLOATING series was awarded the Plus X Award in three categories: INNOVATION, HIGH QUALITY and DESIGN .
We are proud of that!
COLOR TEMPERATURE (KELVIN)
More information:  COLOR TEMPERATURE
COLOR RENDERING INDEX (CRI)
The particularly high color rendering index (CRI) of >85 and the extremely even spectrum ensure the unadulterated reproduction of even the finest color nuances.
More information:  COLOR RENDERING INDEX
DIMMABLE / DIMMER LIST
This LED bulb is dimmable! Here you will find an overview of the LED dimmers that we have currently tested and approved.
More information:  DIMMER LIST
DISPOSAL INSTRUCTIONS
Unlike energy-saving lamps, all SEGULA filament lamps do not contain any toxic mercury. Current information on the disposal of your SEGULA LED lamps can be found here.
Further information:  DISPOSAL INSTRUCTIONS
| | |
| --- | --- |
| lamp shape: | Globe 150 |
| Piston design: | golden glass |
| Base: | E27 |
| energy class: | This bulb is a decorative item and does not require an energy label. |
| Power Consumption: | 6 w |
| Tension: | 220-240V~ / 50-60Hz |
| Watt Equivalent: | 28 w |
| Lumens: | 300 lm |
| color temperature: | 1,900K |
| Color rendering index: | CRI 85 |
| Dimmable: | Yes |
| Lifespan: | 20,000 hrs |
| beam angle: | 330° |