Dunvara is a professional design & interiors firm comprised of duo Barry & Lyndsey Dunne, we provide comprehensive services for both residential and commercial clients. Our primary focus is on designing bespoke furniture in remodels and new builds, and we utilize industry-leading software and digital communication tools to seamlessly collaborate with our clients.
Barry is an integral part of Dunvara Design, bringing over 25 years of experience as a renowned master-fitter, skilled handcrafter, and certified designer of bespoke kitchens and interiors. He is the heart and hands of our company, providing exceptional craftsmanship and expertise in the fitted furniture industry.
Lyndsey is the visionary force behind both Dunvara Design & Dunvara Interiors, utilizing her creative mind and driving passion for interiors to lead our brand to new heights. With over 20 years of experience in the high-end luxury fashion industry and a BA in business studies, she brings a unique perspective to our team. Lyndsey is also a certified Interior Designer with the Dublin Institute of Design.
Together, Barry and Lyndsey form a dynamic team with a diverse set of skills that complement each other perfectly. Their dedication, talent, and extensive experience in their respective fields allow them to provide exceptional service and deliver outstanding results for our clients. Whether it's crafting bespoke furniture or creating stunning interior, their collaborative approach ensures that every project is completed to the highest standard possible.
---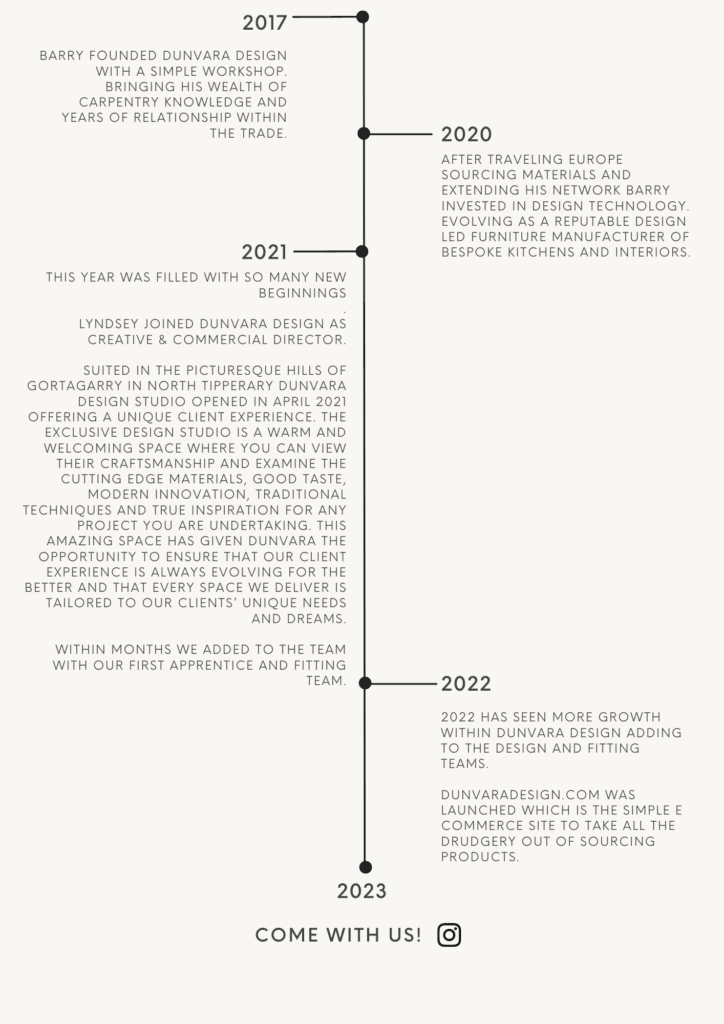 ---
about us…
At Dunvara, we are passionate about design and take responsibility for creating the vision that our clients have in mind. Our mission is to deliver outstanding results, achieved through excellent communication and careful planning. We understand that timely delivery is crucial, and we are dedicated to meeting lead times with efficient organisation while maintaining the highest standards of quality at a fair price.
Our team is constantly seeking ways to improve and enhance our services to offer the highest quality product to our clients. We are results-orientated and proactive in addressing and resolving any issues that may arise during the design and construction process.
Our core values are rooted in professionalism, perfection, and a sense of responsibility to deliver on our promises. We approach every project with a strong drive to provide outstanding service and create exceptional designs that meet the unique needs of each client. We strive to exceed expectations in all aspects of our work, from the initial consultation to the final delivery of the project.