We hope your enjoying browsing our website and social media. Did something catch your eye in our vast collection of bespoke furniture including kitchens, utility space, bootroom, offices, wardrobes and much much more?
Let us tell you how we work! From your first, free consultation with a designer right through to delivery day, here's what to expect along the way.
---
Every project is unique and that is our approach to all enquiries so feel free to contact us if you have some questions or check out our FAQ section.
---
It all begins with some one-to-one time!
Our Design Studio is open and you are most welcome to visit to discuss at first hand your project and to allow you to gain an understanding of our work. Our team will take you through the styles and answer any early questions you might have. This appointment will usually last about 60 minutes and is completely free.
Our talented team have a listening ear, will ask the right questions, and understand your needs and hopes for your space.
---
If you would like Dunvara to proceed we are really delighted to be part of this journey! Thanks for asking us to be part of your home.
STAGE 3
DESIGN SERVICE
In this design service you get a plan, design ideas, cost and time estimate. A good design significantly impacts the everyday through both form and function and this is why we feel it is so important to get it right. This is a guide for you to plan your layout and we feel it is the most important part of your kitchen or any design.
Designs and layouts are based on the completion of the Forms below and a consultation with one of our designers. Our process is a collaborative one so to ensure we give you a suitable layout from the start and to give your designer a good understanding of your space we ask for this information prior to design commencement. This information will be our first point of reference so please do indicate how you and your family would like to use the rooms and feel free to express your practical aesthetic likes and dislikes.
The more information you give our designers, the easier it is to present you with your ideal design and quote first time round.
At this stage you are required to pay a €500 deposit.
---
STAGE 4
YOUR DESIGN PRESENTATION
When your designs are ready after incorporating your requests and personal taste with our style and experience, we'll email you your Design presentation for your to review and make any final changes.  The designers will  present a comprehensive overview  showing you  samples, colours, the finer details, and you will be emailed estimate on all your chosen details to help you visualise the design and concept of your new room.
If you're happy we can get the wheels in motion for the next stage. If you want to take everything home and mull it over, no prob, just come back to us when you're ready.
---
STAGE 5
APPROVAL & SITE SURVEY
At this stage we will arrange a site visit to undertake an initial survey. This will allow us to produce full detailed drawings and understand all other structural details that may need to be implemented.
Designs will be finalised at this stage to include finishing touches such as colours, materials, stone selection, and hardware. At this stage appliances, sinks and taps will be discussed, and expert advice given.
---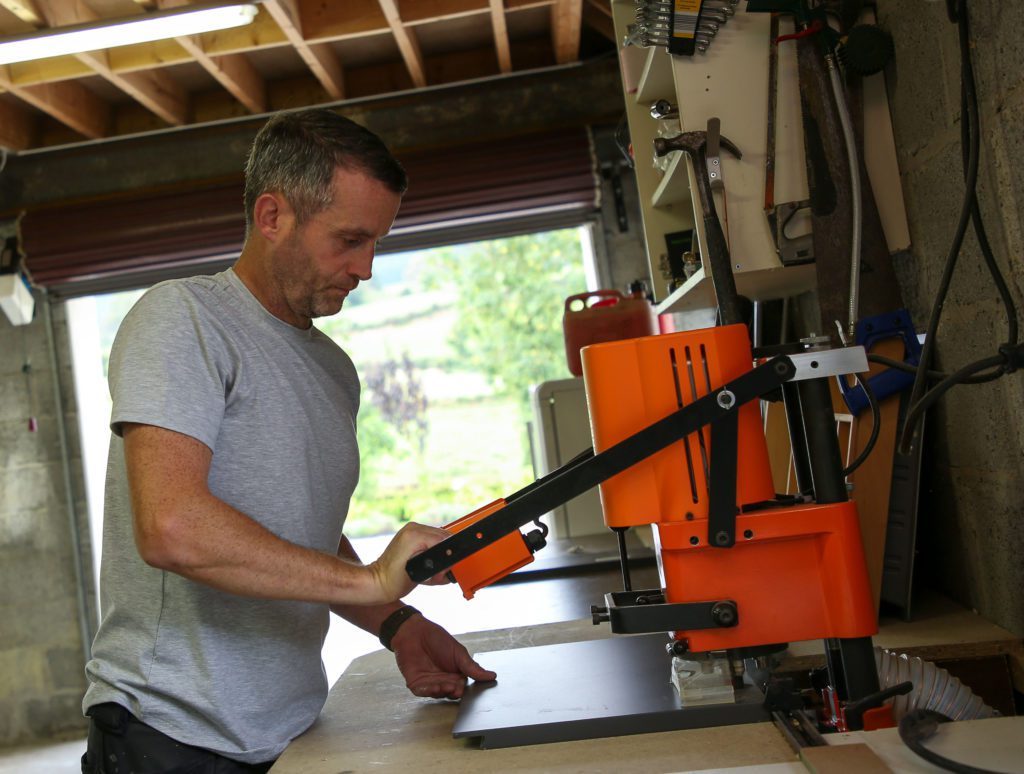 STAGE 6
SIGN OFF & PRODUCTION
When your layout has been agreed with the design team, Barry our Production and Manufacturing Director will have completed a site survey, he will sign off on final production drawings which will include all details of your project. At this point we will ask you to look over the drawings and approve for manufacturing.
Once we receive confirmation, Barry will project manage the manufacturing and co ordinate with our highly skilled craftsmen to start production.  He will liaise with your architect, builder, or associated trades to ensure a smooth and harmonious project. 
On receipt of your final deposit (50% of the total price minus €500 paid at the design stage) your order is put into production. Production leadtime is a minimum of 8 weeks!
Upon sign-off you will be given an estimated installation date of when you can expect your project to be delivered.
---
PROJECT MANAGEMENT This is not a stage but we see it as very important to reassure all our clients we will make this process very simple, informed and enjoyable. There are many (sometimes its feels like hundreds) of things to think of and manage throughout the home-building and renovation process. Every project will be manged through our project management system which we have designed specially for us and will to streamline the process. Barry & Lyndsey will be on hand to communicate to you and any 3rd parties visually and over email, calls, and FaceTime.
---
STAGE 7
DELIVERY & INSTALLATION
Our talented team of skilled fitters have over 25 year's experience working in both commercial and residential properties. You can rest assured knowing that our fitters will take care of your home whilst working inside it. 
Barry is fully in control and manages all our installation being on hand throughout this final process as the project comes to an exemplary quality turn-key finish.
---
---
LET'S DESIGN
If you're ready to get started on your design, simply fill out our online forms below and we'll get in touch to organise a date and time that suits you best to arrange a consultation.