Description
Different sizes, shapes and glass colors leave nothing to be desired. From the small reflector shape to the large globe in elegant smoked glass. Let yourself be inspired and fascinated!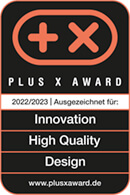 Our FLOATING series was awarded the Plus X Award in three categories:
INNOVATION, HIGH QUALITY and DESIGN .
We are proud of that! .
Links & Information "55078 LED Floating Globe 200 golden|E27| 4.5 W (28 W)|300 Lm|2,200 K|"
COLOR TEMPERATURE (KELVIN)
Further information:  COLOR TEMPERATURE
COLOR RENDERING INDEX (CRI)
The particularly high color rendering index (CRI) and the extremely even spectrum ensure the unadulterated reproduction of even the finest color nuances.
Further information:  COLOR RENDERING INDEX
DIMMABLE / DIMMER LIST
This LED lamp is dimmable! Here you will find an overview of the LED dimmers we have currently tested and approved.
Further information:  DIMMER LIST
DISPOSAL INSTRUCTIONS
Unlike energy-saving lamps, all SEGULA filament lamps do not contain toxic mercury. Current information on the disposal of your SEGULA LED lamps can be found here.
Further information:  DISPOSAL INSTRUCTIONS